Vintage Café & Restaurant
Walk-ins are welcomed during the week, except for the full Afternoon Tea, which is a pre-booked service requiring a minimum of 24 hours' notice and payment of a deposit.
We are open from 09:30 to 17:00.
Get ready to enjoy our delicious breakfasts, lunches or Afternoon Teas with friends & family, or just an indulgent treat for yourself! Why not?
Walk-ins are welcomed during the weekend (except for Afternoon Tea) for groups of 4 or less.
For larger groups, please give us a call or send us an email.
We are open from 10:00 to 17:00. Be the early bird, or instead enjoy a mid-afternoon slice of cake & coffee.
We are happy to accommodate guests with allergies, intolerances or who have mobility challenges on any day of the week. Let us know in advance so we can cater to your needs by pre-booking your visit.
Please bear in mind that afternoon tea is a pre-booked service for a minimum of 2 guests that requires payment of a deposit in advance.
Celebrating? Then why not order one of our scrumptious classic cakes? 
Victoria Sponge, Chocolate Ganache, Carrot Cake and more – we have something for anyone's sweet tooth!
About Doll's House on the Hill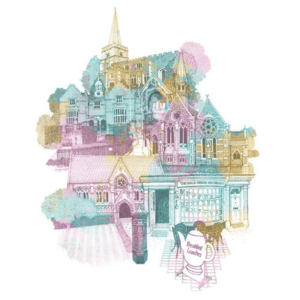 Behind the Georgian shop front with the pastel blue door The Doll's House experience awaits you. Step into "our place" and indulge your guilty pleasures with our freshly prepared breakfast, brunch, lunch and tea-time menus. Hear the clink and clatter of pretty vintage tea cups, evoking nostalgic memories of granny's best china. Discover the original bread ovens dating back to Victorian times when the building was the village bakery; remembering that tradition today with our range of delightful homemade cakes and sweet treats.

Our menu features many items to accommodate vegetarian and gluten-free diets, we are always pleased to advise and make recommendations. For guests who are looking for healthier lifestyle menu options, we are pleased to offer a Superfood Salad Special.
And don't miss the drinks